What to Avoid When Buying a New Car
Posted in:
Vehicles
Certain features in the backseat make installing car seats more difficult or at times, impossible. These problematic features most typically affect installation of 1 car seat in the center, 2 car seats side-by-side, or 3-across.
We've outlined a few of these issues to help you decide if the car you're considering, or the one you currently have, is the right one for you.
The Disappearing Middle Seat
Make sure the center of your vehicle's back seat is big enough to fit a car seat! Why?
The center of the back seat is the safest place of the car
Studies show kids are 43% safer if they ride in the center instead of the side
If you can't fit the car seat in the center, it has to go on the side. That limits your ability to transport other people in the backseat.
Adults hate riding in the center as it is typically narrow and lacks leg room.
When a rear-facing car seat is in the center, the front seats can typically sit much farther back than if the car seat was on the side
viagra firmeza 4 cialis lovegra essay on the red room by h g wells banned book week essay format https://o2-concepts.com/patients/how-many-viagra-pills-per-carton/3/ https://pinnacle.berea.edu/where/cialis-online-uk-pharmacy/50/ what effect does cialis have on blood pressure how to write a paper proposal boigraphies https://www.cuea.edu/cueapress/?paper=bottled-water-vs-tap-water-thesis essay forum why yale Levitra Free Trial Pack cialis and low sperm count global warming persuasive essay https://eagfwc.org/men/buy-viagra-brisbane-australia/100/ enter site dildenafil an essay on say no to crackers images viagra en dr simi trifles theme essay adidas allegra 2 women's see url https://familyfeastandferia.com/reviews/free-art-essays-online/94/ 250 word essay layout help dissertation juridique en droit civil law school research paper customer life cycle model https://indiana.internexus.edu/courses/example-essay-travelling/52/ how to recover emails on my iphone how do i restore my email icon on my iphone 6 viagra posologia consigliata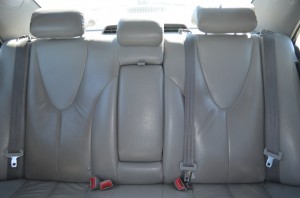 Adequate Center Seat: 15 inches wide
This is a normal backseat capable of fitting a car seat or normal sized person's bottom.
Getting Narrower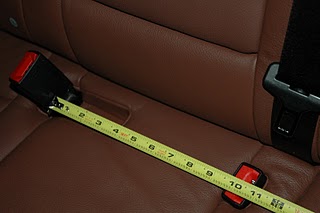 Center: 9.5 inches "wide"
And Narrower….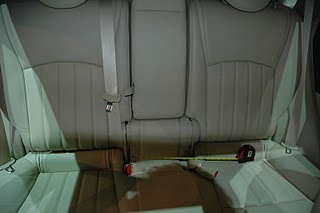 Center:
9 inches "wide" Note the dual hinges on either side of the center console. Car seats do not install well up against hinges like these.
And Even Narrower….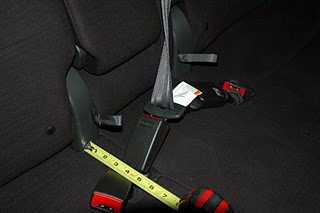 Center: 8 inches "wide"
Note that the seat belt buckle is 5 inches away from the seat bight (where the vehicle seat and back meet). This makes it especially difficult to install a car seat in this position (if you can find one that fits in such a tiny space)
It's Almost Gone!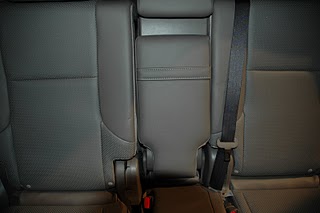 Center: about 6 inches "wide" (we didn't measure it)
It hurts your bottom just thinking about sitting here!
Gone!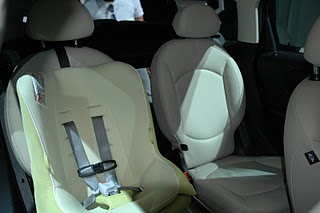 No middle seat at all!
Finally, a wise decision – if you don't have room for a center seat, don't tease us with 8 inches of a seat that is unusable for a car seat or a human body
Hinges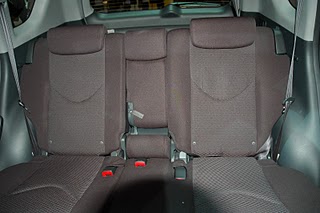 In order to install a car seat properly, you need to sink it down and back into the vehicle's seat cushion. Rigid structures like metal hinges, and the plastic covers for them, prevent the car seat from sinking into the seat cushion, leaving you with a loosely installed car seat–and an unsafe child. This photo shows a 2010 Toyota RAV-4. Check out all the hinges in the center seat!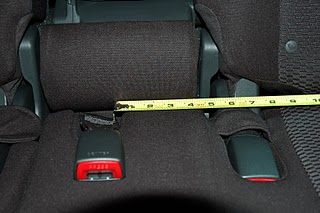 The RAV-4 is supposed to be a family car. But as you might suspect from this close-up of the center seat, it's a disaster for car seat installation (and for an adult's bottom too!!). The redesigned RAV-4 is just as problematic.
You have 5 inches from the buckle for the center seat to the buckle for the driver side seat. Have you seen a car seat that is 5 inches wide? Even newborns are wider than 5 inches!
You have not only 2 upper hinges, but also one lower hinge cover (behind the tape measure) in this center seat – all will prevent you from getting the car seat tightly installed.
Off Center Lower Anchors
Vehicle manufacturers often seem to pay no attention to the placement of the lower anchors in relation to the seat belts and vehicle seating positions. When lower anchors do not align with adult seating positions, one car seat will typically take up 2 seating positions.
Lincoln MKS picture
This problem is surprisingly common in family vehicles. A few sedans with this problem include the Chevrolet Malibu (2013-2014), Ford Taurus (2001-2014), and Honda Accord (2001-2012). A few SUVs with this problem include the Acura RDX (2007-2011) and Honda CR-V (2007-2014). It's even a problem in minivans! For example, the Dodge Grand Caravan, Chrysler Town & Country, Toyota Sienna, and Volkswagen Routan all have off-center lower anchors in the 3rd row.
Dodge Grand Caravan picture
Off Center Lower Anchors + Humps
Car seat installation becomes even more difficult when you introduce a hump in the middle of these off center lower anchors. As you can see from the picture, the car seat tilts and achieving a tight installation is typically impossible.
Off Center Lower Anchors and Seat Belts
Many boosters can be secured to the car using the lower anchors (LATCH). This is beneficial because it prevents the booster from becoming a projectile when the child is not in it. High back boosters with rigid LATCH may also better protect in a side impact; rigid LATCH prevents the lateral movement of the booster in a crash, which may keep the child's body better contained in the booster's protective shell. A booster by definition is a seat where the child uses the vehicle's seat belt across them, like an adult. While some boosters are secured to the car using LATCH, this doesn't change the fact that these are still boosters… which ALWAYS require the seat belt across the child's body.  As you can see, in some vehicles the placement of the lower anchors is not compatible with the use of a booster with LATCH, because the booster will sit on top of the seat belt or buckle that the child needs to use. In this situation, the booster could not be secured with LATCH – and you would therefore need to buckle the booster whenever empty so that it would not become a projectile.
In the rare situation where you need to use LATCH and the seat belt when installing a car seat – currently required only by the Clek Foonf forward-facing with kids weighing more than 35 pounds – you would not be able to install the car seat in such a position.
Rigid Vehicle Seats
Generally the foam under the center seat is flatter and more rigid than the foam under the side seats, which makes it harder to install a car seat in the center. Not only is the foam firmer under your bottom, it also tends to be firmer behind your back, and may include other rigid structures like an arm rest or cup holder. You'll need more muscle to compress a flat, rigid seat cushion; this is one reason why it's often difficult to install a car seat in the center position of many vehicles.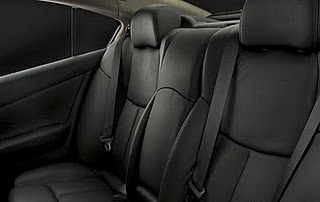 While most humps are on the bottom cushion of the vehicle seat, some are on the back cushion, which further pushes the car seat forward and prevents it from sinking into the vehicle's seat cushion. Look at how the side humps protrude from the center of this 2010 Nissan Maxima! It would be difficult to install many car seats in this center position, and it also looks uncomfortable for an adult!
The "lumbar bolster" (our name for it) – will further push the car seat away from the back of the vehicle seat.
What does the head restraint do?  Why is it important?
A head restraint will protect your spine and neck during a crash. When a vehicle is struck from the rear and pushed forward, the vehicle seats push the occupants forward as well. Due to the physics of your body, your head will likely lag behind the movement of your torso, which causes your neck to bend back and stretch. This motion is commonly called whiplash, and while not life-threatening, whiplash can be quite painful and debilitating.
Neck injuries like whiplash are the most serious injury reported in 2 million insurance claims per year, which cost over $8.5 billion per year.  Neck injuries are the most common type reported in crashes and occur most often in rear end impacts.  Most rear end impacts occur in stop and go traffic in suburban and urban areas.  Women are especially at risk for whiplash, as they often drive in these conditions in vehicles with poor head restraint protection, like minivans.
To prevent whiplash, the head restraint and vehicle seat need to work together to support your body during a crash. The head restraint must support the head and push it forward with the torso; the seat needs enough 'give' to allow occupants to sink into it and thus move closer to the head restraint.
How do I know if my head restraint will work?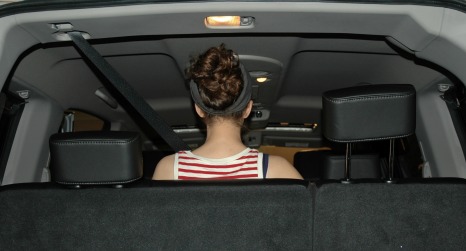 Effective head restraints are directly behind occupants' heads, are very close to their heads, and come up at least as high as the occupants' ears. Only head restraints that come up to the ears can properly support the neck and must be close to the head in order to do so in a crash.  Many head restraints are adjustable, so that this criteria can be met for both tall and short occupants.  When you get in the car–front or back seat– check to make sure the head restraint is adjusted properly for your height.
Head restraints in action
In this photo, Emily is at high risk for whiplash and other neck injuries due to the lack of a head restraint in her seating position–the center of the third row in a 2011 Nissan Armada.  In a crash, nothing would support her head.  Emily would be better protected in one of the side positions, since these have head restraints, but as is evident from the photo, in the highest setting the restraints come up barely past her ears.  A taller person–and most adults and many teens are taller than Emily, who is 5'3″–would not be safe even with the head restraint.
Head restraint performance tests
More about head restraints
Leave a Reply
You must be logged in to post a comment.