Inflatable seat belts are seat belts with airbags built into the belt itself. The airbag can increase the protection to the occupant's chest by spreading the crash forces over a larger area of the chest than a regular seat belt does. The inflatable seat belt is designed to decrease the risk of chest & rib cage injuries. Inflatable seat belts are now found in the back seats of many Ford & Lincoln vehicles (starting in 2011) as well as Mercedes Benz (starting in 2014). The table below lists all of the vehicles – and the applicable model years – where inflatable belts are an option (updated 2020). Inflatable belts are an OPTIONAL feature, and are not standard equipment on any of these vehicles.
Can you use an inflatable seat belt to install a car seat?
First, you may not have to use an inflatable seat belt to install a car seat, since all of the seating positions that have an inflatable seat belt will also have LATCH.
For children who are within the weight range to use the lower LATCH anchors, it is preferable and recommended to install the car seat using the lower LATCH anchors instead of using the ISB.
When choosing a car seat, picking one with a high weight range for using the lower LATCH anchors would be a good idea. The
Graco Extend2Fit
 has the highest LATCH capacity – and can be installed rear-facing or forward-facing with the lower anchors until a child is 45 pounds. The
IMMI Go
(now discontinued) had the highest forward-facing LATCH capacity and can be installed with the lower anchors until a child is 55 pounds (kids will typically be too tall for the seat at or before 55 pounds).
If you have a
Ford or Lincoln

with an Inflatable Seat Belt (ISB):

If you need to install the car seat or booster with a seat belt, you'll want to select from one of the car seat manufacturers below for your Ford/Lincoln. If your car seat manufacturer is not listed here either they do not permit installation using inflatable seat belts or we don't have data on their requirements. If you have any questions regarding installation with inflatable seat belts for a particular seat, look in the manual for instructions or contact the manufacturer. (Updated 5/23)

Baby Jogger:
City Go: May install carrier WITHOUT base using an ISB. Base may NOT be installed with ISB. Therefore, if you need to use the base, install the base with the lower anchors or move to a different position that doesn't have an ISB.
City View: May install in harness or booster mode using ISB. However, do not run the ISB's shoulder belt through the City View's seat belt lock-off.
City Turn: Do not use ISB to install City Turn
Britax:
According to Britax's FAQ page: Most models of BRITAX car seats are NOT approved for use with inflatable seat belts. At this time, ONLY the Ford Motor Company (Ford and Lincoln vehicles) Inflatable seat belt system is approved for use with ONLY the following BRITAX models: B-SAFE (retired model with 30 lb weight limit only), Britax G Series Convertibles (retired models: Roundabout, Marathon, Boulevard, Advocate), Pioneer 70, Pioneer, Frontier, Frontier 85, Frontier 90, Frontier CLICKTIGHT, Pinnacle 90, Pinnacle CLICKTIGHT, Parkway SG and Parkway SGL.
If your car seat model is not listed above, it is NOT approved for use with the Ford inflatable seat belt system or any other inflatable seat belt system.
For more information on Britax's policy regarding Inflatable seat belts, please click here.
Note that the Click Tight convertibles (Marathon/Boulevard/Advocate Click Tight) and the BSafe35 and BSafe35 Elite & Endeavours infant seats can NOT be installed with an inflatable seat belt.
Century:
Carry On may be installed with ISB if using WITHOUT its base. DO NOT install base with ISB.
Drive On may be installed with a Ford ISB
Chicco
:
As of October 2016 – STOPPED allowing the use of their car seats with inflatable seat belts. This is a retroactive change, meaning that if you are using a Chicco car seat with an inflatable belt you must stop. If you have a Chicco car seat that you purchased in order to use with an inflatable belt – and now no longer can use this seat due to their policy change – please contact Chicco's customer service and they will handle these situations on a case by case basis.
Clek:
In February 2017 Clek announced that they now allow the installation of Foonf, Fllo, and Liing (carrier only) and boosters (Olli, Oobr, Ozzi) with Ford's inflatable seats belts. This change is retroactive. This does NOT apply to Mercedes inflatable seat belts, which are NOT approved by Clek.
Installation instructions are posted on Clek's website.
Do not install Liing base with ISB, use LATCH instead.
For the rear-facing Foonf & Fllo, keep the blue lock-offs closed and route the seat belt OVER the closed lock-off and use the vehicle lap belt's own locking mechanism to hold the seat belt tight.
For forward-facing Foonf & Fllo open the appropriate red seat belt lock-off and keep it OPEN. For Foonf & Fllo (rear or forward-facing) you will always pull the vehicle lap belt all the way out to put the lap belt into it's required car seat locking mechanism – and you'll notice as you let the lap belt back in it gets tighter and stays tight). In some Ford/Lincoln vehicles you will notice that the seat belt buckle (the female end – the part with the red button) is angled more towards the front of the car in some seating positions, and more towards the roof of the car in others. A forward-facing car seat is more likely to get tight if you choose the buckle that is angled towards the roof (straight up). For example, in the Ford Explorer with bench seats, the driver's side buckle is angled more to the roof and the passenger buckle more to the front of the car.
For both rear & forward-facing, have one person push down and wiggle the seat while the other person feeds the lap belt forcefully downward into the hole it comes from. If the vehicle seat back reclines (like in the Ford/Lincoln SUVs) you will absolutely want/need to use the seat back recline trick shown here to help you get the seat tight.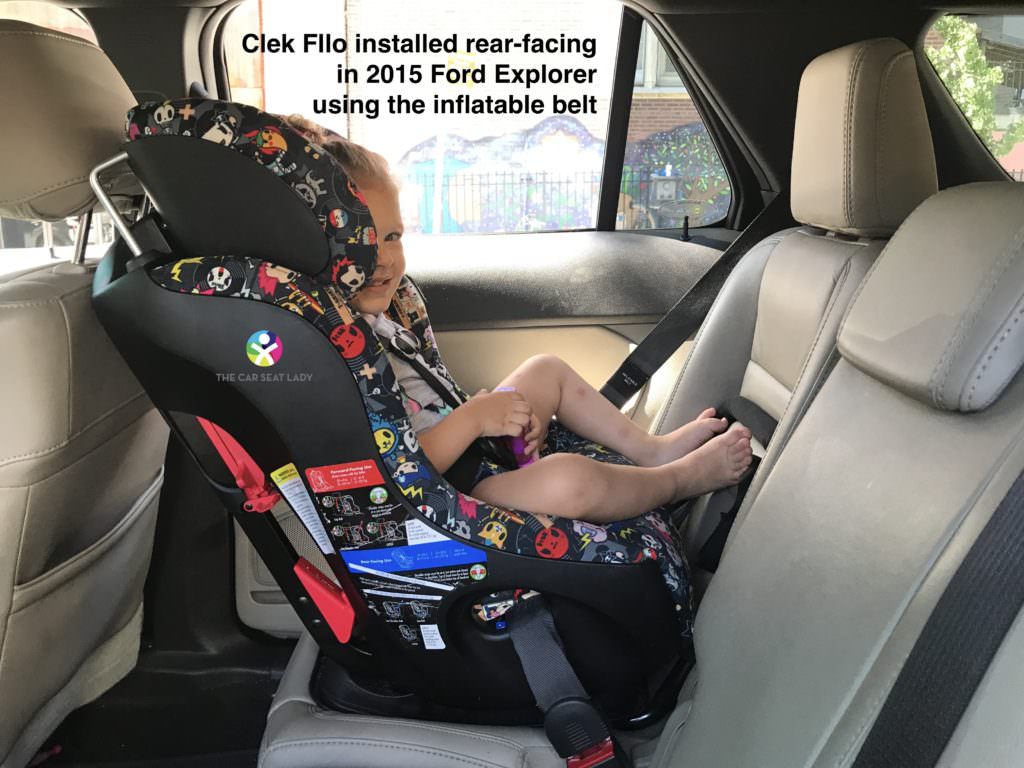 Diono:
See instruction manual that came with your seat or contact Diono. Installation permitted only on certain seats depending on their date of manufacture. See here for more information from Diono.
Doona (Simple Parenting):
Both the carrier and the base may be installed using an ISB.
When installing the base with an ISB, do not use the shoulder belt lock-off.
When installing without the base using an ISB, do not use the European belt path (i.e. do NOT route the shoulder belt around the carrier and into the blue guide in the back).
Evenflo:
Evenflo allows the use of an ISB with any of their booster seats (where the child wears the vehicle's seat belt as their restraint).
They do NOT allow the use of an ISB to install any of their harnessed seats.
Graco
:
You can read more about Graco's policy here.
Merritt: (seats for kids with special needs)
An ISB is allowed for securing a child in a Churchill or Chamberlain.
Use of an ISB is not permitted for other Merritt products.
Nuna:
The Aace booster may be used with an ISB.
Pipa (all models), Rava, and Exec are NOT allowed to be installed with an ISB.
Peg Perego:
Peg Perego allows the use of inflatable belts on all car seat products manufactured after May 2014. It is important to note that Peg Perego requires specific shoulder belt routing on rear facing infant seats – specifically, the inflatable shoulder belt cannot be routed through the integral Right Tight lock off clip (in the base of the Peg Perego 4-35 and 4-35 Nido).
Additional Info:
You can also 
see this document here
 which aggregates the policies of all the car seat manufacturers on the use of their seats with inflatable belts.
If you have a Mercedes Benz with a Beltbag:
Mercedes says the following in the vehicle owner's manual:
In an accident, the belt bag may damage a non-approved child restraint system. As a result, the child restraint system may not be able to provide the intended level of protection. There is an increased risk of injury. For safety reasons, we recommend that you only use a child restraint system which has been tested and approved by Mercedes-Benz in combination with a Beltbag.
Note that
no car seat manufacturer in the US approves of the use of their car seats with the Beltbag
. Therefore, you will need to use LATCH to install car seats in this vehicle, or get a car seat from Mercedes that is approved. For pictures on what the "guts" of the Beltbag looks like and how it is connected to the vehicle,
see here
.