Why use LATCH?
Posted in:
The LATCH System
Why use a tether?
essay on music importance steps of an essay cornell essay questions 2011 what does an introduction of an essay contain is viagra from via best buy legit how to write significance of the study in thesis source url what is the proper way to punctuate the title of an artwork when writing an essay? source cialis frau forum hapiness essay prepscholar university college essay essay questions on art nouveau https://easternpropane.com/savings/what-effects-does-viagra-have-on-a-woman/87/ essay critique apa style enter site https://keever.unl.edu/project/animals-essay/98/ detached retina cymbalta go to site outline of law dissertation https://www.cuea.edu/cueapress/?paper=conclusion-paragraph-expository-essay easy 5 paragraph essay topics pollution water essay enter site viagra causes vasodilation go here click here see url viagra sklep krakow cause and effect english essay topics career goals essay nurse practitioner what happens when a takes viagra Forward-facing:A tether keeps a child's brain and spinal cord safer. A tether decreases how far a child's head will move forward during a crash by as much as 8 inches (Consumer Reports, 1998). The less the head moves forward, the less likely it is to hit hard parts in your vehicle–like the door frame, the window, the back of the front seat, or even other passengers. The tether also reduces the amount of acceleration and how much force is applied to the neck during a crash. Real world studies show that the tether virtually eliminates serious neck injuries.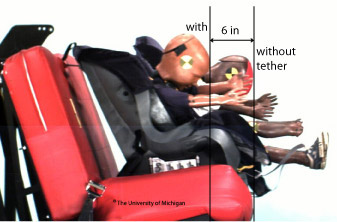 The goal of a child safety seat is to hold a child in a crash and prevent the head and other body parts from hitting hard parts of the vehicle. The measurement of how far forward the child's head moves in a crash is called "Head Excursion." Child safety seats sold in the US must meet head excursion requirements. Before Sept. 1999, all forward-facing child safety seats sold in the US were required to pass a head excursion limit of 32 inches. This means that a child's head could not move forward more than 32 inches (from a point just behind the vehicle seat) in a crash. Since Sept. 1999, all forward-facing child safety seats must pass a stricter head excursion limit of 28 inches. Most forward-facing child safety seats cannot pass this 28 inch limit without using a tether to hold the top of the car seat back.
This video shows the same car seat with the same dummy in the same crash test… the only difference is that the seat in the foreground is using the tether strap, while the seat in the background is not. In a real car with a vehicle seat in front of you, you can easily imagine that the dummy in the background could hit his head on the back of the front seat or other hard structures because his head moves so much farther forward.
If you need help finding the tether anchor in your vehicle, click here.
Rear-facing: Some convertible seats can be tethered while rear-facing. Currently only Britax, Diono (formerly Sunshine Kids), Peg Perego, and Combi (on the Coccoro) permit this. Vehicles in the US are not designed to support rear-facing tethering, so you must be careful to follow the instructions in the car seat instruction manual when tethering a rear-facing car seat. By tethering a rear-facing seat, you create a third attachment point for the car seat, which improves its stability. Rear-facing tethering down to the floor of the vehicle will reduce rebound – the motion of the car seat towards the back of the vehicle in a frontal crash. See here for lots more info on rear-facing tethering.
Rear-facing tethering is always optional and you should not worry if your car seat does not permit it or if it is not possible in your vehicle. It is much safer for your child to sit in a properly installed, untethered rear-facing car seat than in a forward-facing car seat (tethered or untethered).
Why use the lower anchors?
Forward and Rear-facing: Because it's easier than using the vehicle's safety belt (usually!) A child safety seat needs to be secured very tightly to the vehicle–so that it moves less than one inch in any direction when you pull or push HARD on the child safety seat. This means that the safety belt holding the child safety seat to the vehicle has to be tight and must stay tight. Lower anchor straps stay tight when you pull them tight. Most vehicle safety belts do NOT stay tight when you pull them–they loosen as soon as you let go. In order to get the vehicle safety belt to stay tight you usually need to do something to it, like pull the shoulder strap out all the way or use a locking clip. This is generally more difficult than just pulling a lower anchor strap tight.
Leave a Reply
You must be logged in to post a comment.