2007-2009 Suzuki XL7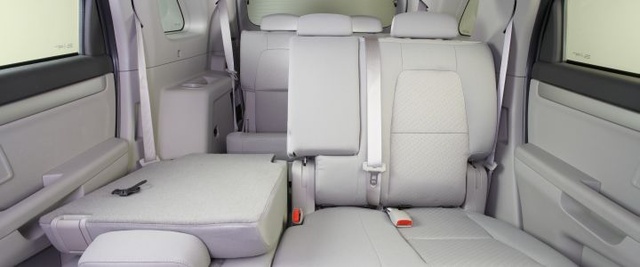 The XL7 for this model year range actually has 6 lower anchors – the 2 for the passenger seat are located in a normal arrangement. The ones for 2D and 2C are overlapped in the same was as in the Malibu shown below. 2D & 2C's lower anchors also cross over some part of the seat belt hardware for their respective locations. Because of this, we do not count either the driver or center seats as having LATCH since the usefulness of these is extremely limited as neither can be used to LATCH in a booster (as the booster will sit on the seat belt hardware it needs) and installing a car seat with LATCH in either 2D or 2C will make it impossible to put anyone or anything in the adjacent position. The only functional position with lower anchors is the 2nd row passenger seat.
---
2004-2006 Suzuki XL-7
2004 saw the introduction of a shoulder belt and head restraint for 2C.
---
2002-2003 Suzuki XL-7
2C has only a lap belt and no head restraint.