Lower anchors are typically spaced exactly 11 inches apart. A few vehicles allow you to "borrow" the innermost lower anchors belonging to the driver & passenger seats to install a car seat in the center… but the spacing between these borrowed anchors is always wider than the standard 11 inches.
The table below will show you whether your child's car seat or booster seat can be used with lower anchors that are wider than the standard 11 inches apart.
Note: A harnessed seat is one where the child uses a 5 point harness as their restraint. A booster seat is one where the child wears the vehicle's seat belt across them as their restraint.
This table is best viewed on a computer (not a phone) – and if you click "view larger version" at the bottom right you'll like the view even more!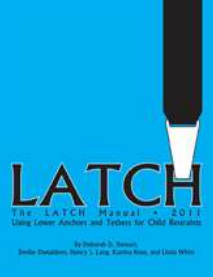 After you've installed the car seat, make sure that the lower anchor strap isn't crossing over or blocking the seat belt or seat belt buckle for either of the side seats as otherwise you'll be inviting a back seat missile into your car! If this happens, install the car seat in the center with the seat belt, or move the car seat to the side if you want to use the lower anchors.
**We want to let you know about an invaluable resource for CPS Techs/Instructors – the Safe Ride News LATCH manual which contains much of this information PLUS A LOT MORE.  It is the LATCH "bible" – and we use it several times a day as a reference.  No tech/instructor should be without it.  Go to saferidenews.com to order your own copy!**