Your seat belt is your baby's first car seat. When worn properly, the seat belt will help keep you and your unborn child safe in a crash.  Everyone – pregnant or not – should wear their seat belt in the same way.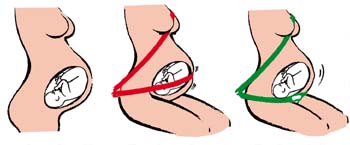 Lap Belt: The lap belt should rest low and flat on the tops of the thighs. This ensures that the lap belt will start and stay on the strong hip bones. If the lap belt rests on the abdomen, the forces of the crash are put on the weakest, most vulnerable organs in the body – the kidneys, liver, spleen, intestines, and lower spinal cord – and for pregnant moms, the baby & placenta too.
Shoulder Belt: The shoulder belt should go across your chest and rest on your collarbone between your neck and shoulder. Putting the shoulder belt under your arm or behind your back is exceptionally dangerous as it takes away all protection for your head and chest AND makes the lap belt slide up into the belly during a crash.