Decoding the 3-in-1 car seat
Posted in:
Blog
Many parents get fooled when buying a 3-in-1 car seat, thinking that all 3-in-1's are the same. This is unfortunately NOT TRUE!
There are 2 types of 3-in-1 car seats – and knowing how they differ is critically important. The key differences is that one type (what we're calling Option A) can be a rear-facing car seat while the other variety (Option B) is ONLY forward-facing.
It is also very important to know that the height, weight and age minimums & maximums for each of the 3 modes are almost never the same. What this means is that a 3-in-1 may go forward-facing with the 5-point harness to 40 pounds, and then become a high back booster until 80 pounds, and then a backless booster until 100 pounds. Too often we see parents buy this type of 3-in-1 for 40+ pound 3-year-olds expecting to keep the child in a 5-point harness for another few years – thinking the 5-point harness has an 100 pound weight limit – before changing to the booster mode… only to realize they got fooled as the 5-point harness mode was outgrown before they even bought the seat.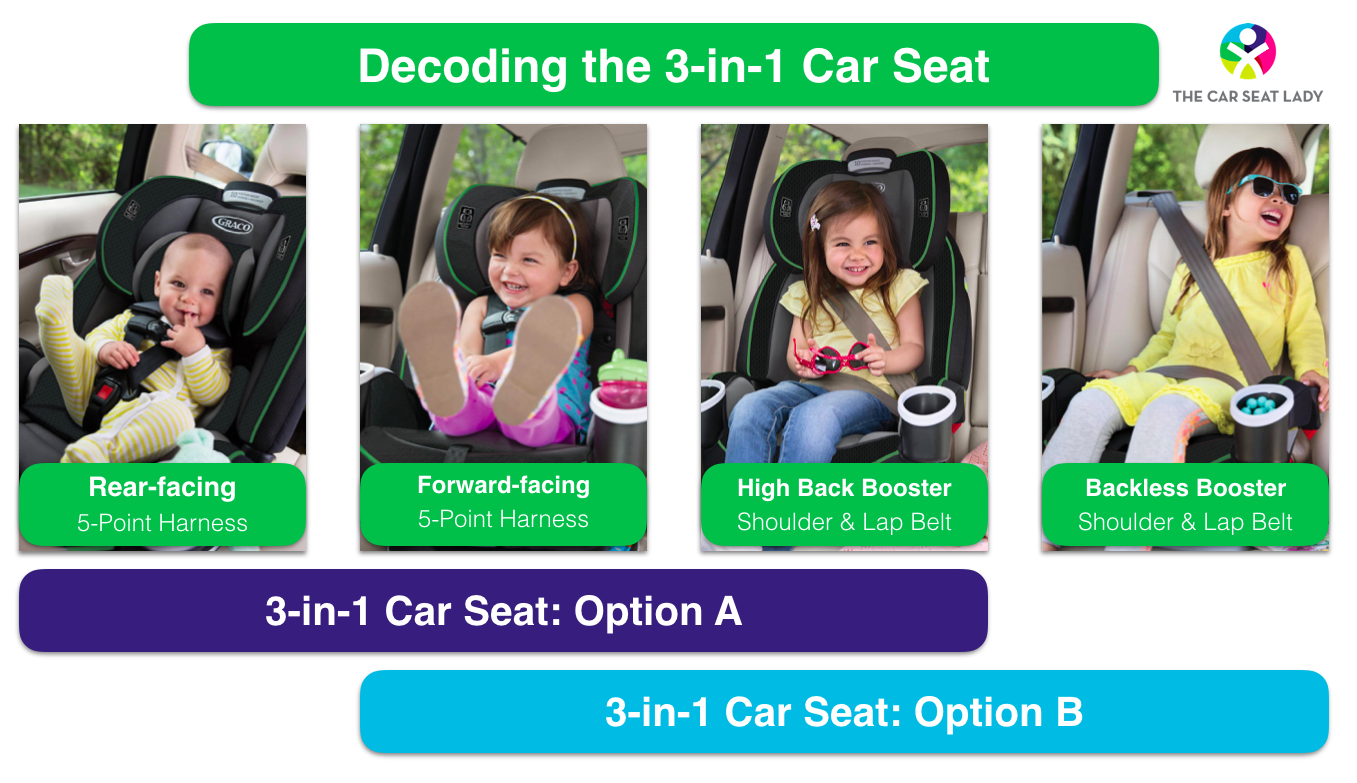 Option A 3-in-1
Rear-facing (5 point harness)
Forward-facing (5 point harness)
High back booster (vehicle's shoulder & lap belt)
Examples:
Cosco: Easy Elite
Diono: Radian (all models), Olympia, Pacifica, Rainier
Evenflo: Platinum SafeMax, Symphony (all models)
Graco: Milestone
Safety 1st: All-in-One, Alpha Elite, Continuum, Elite EX 100 Air+, Grow and Go (all models), Multifit,
Option B 3-in-1
Forward-facing (5 point harness)
High back booster (vehicle's shoulder & lap belt)
Backless booster (vehicle's shoulder & lap belt)
Examples:
Baby Trend: Hybrid (all models)
Evenflo: Platinum Evolve, ADVANCED Transitions
Graco: Nautilus (all versions), Tranzitions
Harmony: Defender